Test Driving PlatformIO IDE for VSCode
A new version of the PlatformIO IDE has been released, so we thought we would give you an inside look as we test drive this updated platform with our Snō board.
Overall the PlatformIO IDE is very easy to get up and running if you are using our boards or a simple Arduino environment. We will make sure to share any other PlatformIO updates that may be of use to XLR8 and Snō users in the future. If you have any feedback regarding your use of our hardware with this environment or any other please reach out to us here.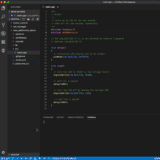 Loading simple blink app onto Snō