Alorium Technology offers contract electronics manufacturing and prototype production builds.
This service now extends beyond our Fusion Product Development clients to include any customer looking for a flexible, quick-turn manufacturing partner for small-quantity PCB assembly production.
Mancorp MC-300 Automated Pick and Place
Vision-inspected pick and place
PCB offset/misalignment correction
Up to 1800 CPH
Mancorp MC-301 Reflow Oven
Programmable reflow profiles
9.84" x 7.87" (250 mm x 200 mm) soldering area capacity
Manual Rework Station
Component replacement
Schematic error fixes
Debug/bring-up cuts & jumps
Test Fixture Design
Mechanical and electrical design
Software interface
Post-production testing
Alorium Technology Snō Build
The original catalyst for adding production capabilities was the decision to start manufacturing our own boards starting in 2020.
The video below shows a small build of our Snō FPGA modules in September 2020.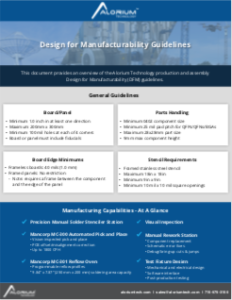 Click on the button below to download an overview of the Alorium Technology production and assembly Design for Manufacturability (DFM) guidelines.
Interested in Manufacturing?
Alorium Technology is an Intel Design Solutions Network Provider

Alorium Technology | 3041 Melby St., Eau Claire, WI 54703 | 715-575-3150