FPGA Sensor Hub and Development Kit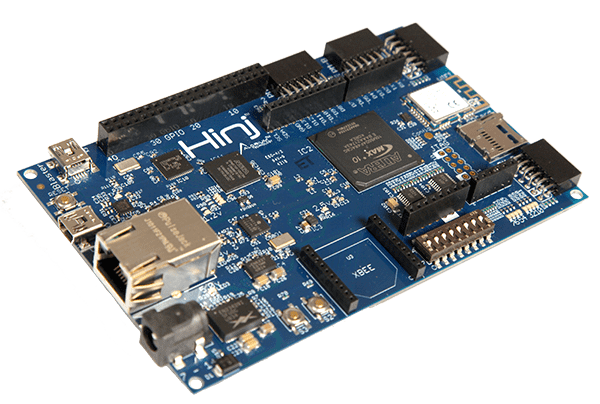 FPGA Performance
Boost IoT sensor data processing and enhance industrial motion control solutions with dedicated FPGA Xcelerator Blocks. 
Integrated Connectivity
Integrated Ethernet and WiFi modules with built-in driver support provide quick and easy connectivity to cloud servers and IoT frameworks.
Programmable with Arduino
Rapidly develop your solution using the free and flexible Arduino IDE. 
FPGA Prototyping Made Easy
____
Hinj is programmable with Arduino and compatible with the Arduino ecosystem of shields and accessories. This makes designing your FPGA-based solution easier than ever.
Intel MAX 10 FPGA (50K LE)
Embedded 8-bit Microcontroller
AVR compatible
Selectable 16/32 MHz
Program FLASH: 32 KB
Data Memory SRAM: 2KB
Integrated Hardware Acceleration
Pre-installed Xcelerator Blocks
Customizable FPGA fabric
On-Board Wi-Fi and Ethernet Connectivity
Modular Standard Interface Compatibility
Arduino
Digilent

Ⓡ

Pmod™️
Digi

Ⓡ

XBee™️
Standalone 36-pin GPIO Interface
6 Analog Inputs
Alorium Technology | 3041 Melby St., Eau Claire, WI 54703 | 715-575-3150